Basics
Classic punching and deep-drawing of bursting elements and membranes are core competencies of Wehberg Safety. They are supported by our comprehensive train of machines. We design our own tools that are built and maintained in our in-house tool shop.
Automation
Thanks to a high degree of automation, we are able to produce and process many products in very large quantities.
Safety and quality
Our processes ensure the end-to-end traceability of our products. This is one of our most important concerns in order to meet the requirements of our customers and their technologies. Due to the special, extraordinarily high safety standards imposed on our products, consistently high quality for single-item and series production is of crucial importance for Wehberg Safety.
We use mature analogue, digital and optical in-process inspection methods and equipment. Systems of high quality are used to test bursting pressures in our test centres. The systems are equipped with the latest measurement and control technology, supporting test pressures up to 7000 bar.
Tightness
Every Hybrid Assembly® and Hybrid System® has to pass a tightness test before leaving our facility.
Marking
The required marking using laser technology or various printing methods is a matter of course for us.
Cleanliness
We ensure the necessary cleanliness of our products with a modern, environmentally friendly cleaning system.
Material and rupture analysis
With our high-end microscopes, we are able to analyse the material used and its structures down to the grain size and to examine bursting elements in detail after a rupture, in particular fracture zones. As a rule, this enables us to determine the cause of atypical bursting events, which occur very rarely.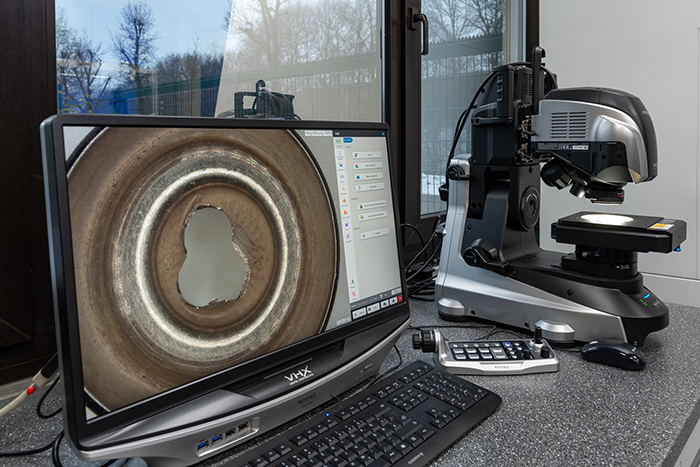 Endurance/stress tests
Our load change test stand, conceived in-house and custom fabricated for us, makes it possible for us to analyse the capacity of bursting discs under fluctuating pressure conditions over extended periods of time. We also use this system for analyses commissioned by customers.